THE TEXSTAR APPROACH
Lower Back Pain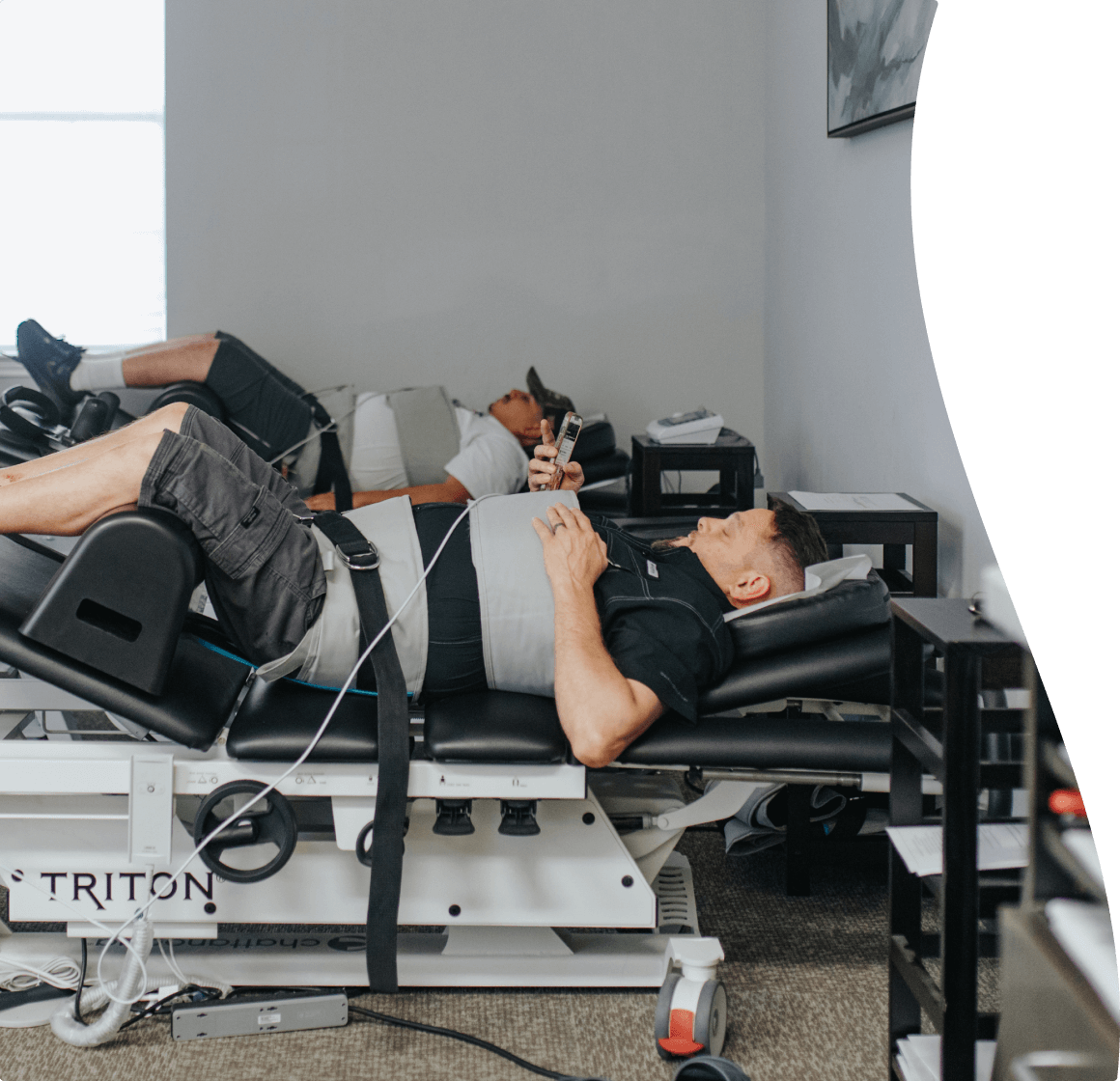 What Causes Low Back Pain?
Lower back pain is one of the most common conditions that people suffer from world-wide, and a common issue we treat at TexStar Chiropractic. Your lower back contains muscle groups surrounding a stack of 5 vertebrae between your ribs and pelvis, with spinal discs between each vertebrae that act as shock absorbers. These structures together with your pelvis form a protective canal that surrounds your spinal cord and nerve roots. Between each vertebra a set of spinal nerves exit and travel out to the muscles and organs in the lower part of your body. When any of these vital structures becomes damaged, it can cause intense pain locally as well as pain, numbness, and tingling in the legs, buttocks, and pelvic area.
---
Common causes of lower back pain include:
Sprains or Strains
When you strain or sprain your lower back, the muscles can be weakened or acquire tears in the tissue when strained, causing the spine to become less stable.
Tendonitis and Muscle Strains
The muscles that support the joints and bones in the spine can become weakened or damaged from major trauma like car accidents or falls, but more often this type of damage comes from repetitive and prolonged stress like sitting for long periods of time.
Herniated Discs, Sprained Ligaments, Damaged Cartilage
When the muscles around the spinal joints weaken the ligaments and cartilage pads have to bear the load. Over time this can cause weakening, tearing, and instability which causes intense pain in the spine and often muscle spasms in the area.
Pinched Nerves, Sciatica, Neuropathy
When the spinal joints become damaged or unstable the nerves in the spine can be compressed or inflamed. This can cause severe pain locally but can also appear as deep pain, burning, tingling, or numbness into the legs, buttocks, and groin.
Arthritis
Chronic inflammation and dysfunction in the joints around the spine if left uncorrected can result in wearing down of the cartilage as well as your body laying down bony material in the ligaments around the spine in an effort to stabilize the area.
If you're experiencing any of these conditions, TexStar Chiropractic has the solutions that will have you back to normal in no time.
The TexStar Solution
At TexStar Chiropractic, almost all of our non-surgical solutions are designed to help relieve lower back pain and strengthen those muscles for long-lasting recovery. Some of our solutions include:  
Let our team pinpoint the root causes of your discomfort and develop a custom solution to enhance your overall quality of life. With our highly trained staff, cutting-edge technology, and advanced treatments, you can expect swift relief and long-lasting results for your lower back pain. Schedule a consultation today and receive a personalized solution for your pain.
---
Reviews and Testimonials from our Clients
True stories from pain-free patients