TEXSTAR STAFF
Tyrone P. Smith, DC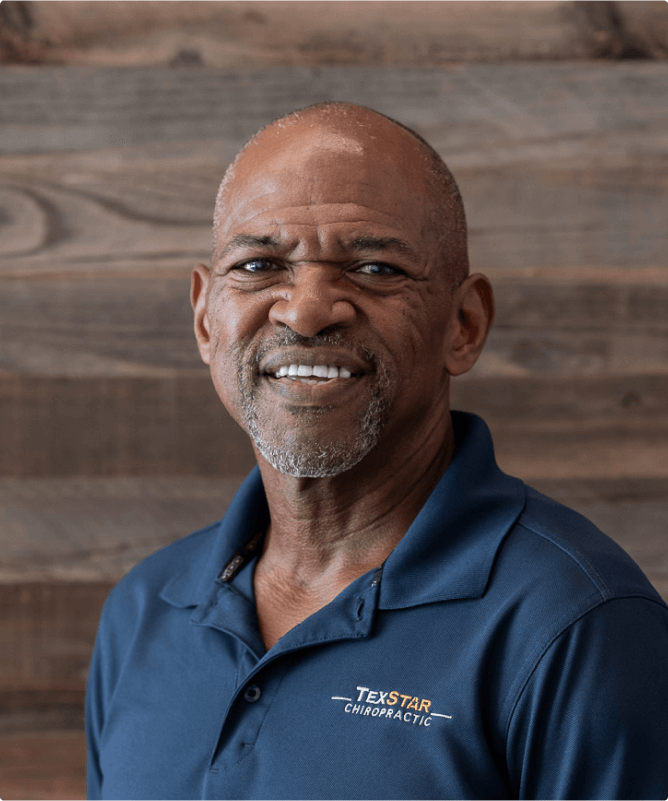 Tyrone P. Smith, DC
Doctor of Chiropractic, Austin Clinic Lead
---
Dr. Smith believes that proper spinal alignment and muscle functionality are the secret to sustainable pain relief. He has developed an expertise in reading muscle imbalances and spinal misalignment to determine the appropriate spinal adjustment and supportive therapies. He went on to attend chiropractic school at Cleveland University of Overland Park, KS. After earning his Doctor of Chiropractic, he returned home to Austin to begin practice in 2019.
---
Dr. Smith was born in Kansas City, KS and raised in Kansas City, MO. While completing his bachelor's degree in management and human relations and working as a courier, Dr. Smith developed a low back condition which led him into his local chiropractor's clinic seeking help. After having his health restored through chiropractic care, Dr. Smith decided to help others by enrolling in the local chiropractic school and graduated four years later with his doctorate degree from Cleveland Chiropractic University of Overland Park, KS in 2002. His favorite part of practice is educating his patients on the benefits of chiropractic care, regular exercise, and nutrition. He loves to see the smile on his patient's face after receiving treatment and helping them to understand the root cause of their problem and how to fix them. His goal is to enable all his patients to achieve a more active and healthier lifestyle.
Just prior to graduation, Dr. Smith received the prestigious Clinic Service Award in recognition of dedicated commitment and service to patients. His commitment to providing superior care to every patient, each time, remains his personal goal. Upon graduating Dr. Smith entered private practice serving both in Kansas City, Kansas and Missouri, helping patients restore their health through chiropractic, acupuncture, nutrition, and other modalities such as massage, spinal decompression, and MLS cold laser therapy.
Dr. Smith and his wife, Teresa, decided to move to a warmer climate during the recent pandemic and chose Texas as their permanent home. When not practicing, Dr. Smith enjoys reading, playing chess, tennis, and trail riding with his wife and their two Appaloosa horses.
Reviews and Testimonials from our Clients
True stories from pain-free patients