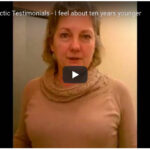 Austin's TexStar Chiropractic Made Her Feel Ten Years Younger
February 24, 2020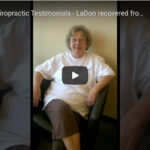 LaDon's Right-Side Pain Gone After Visiting TexStar Chiropractic – (Now in Buda)
March 2, 2020
Today we're going to share April's story, a typical story that all of us here at Buda's TexStar Chiropractic love to go home and tell our families about. April suffered lower back injuries in a bad auto accident. Like many, she procrastinated getting treatment thinking that ultimately her back would just fix itself. Well it didn't, but just listen to April tell you in her own words how immediately after her first chiropractic lower back treatment here at TexStar, her pain subsided. Now she feels ten years younger!
Hi, my name is April and I just got through the treatment here at Dr. Henry's place, TexStar Chiropractic (now in Austin and Buda, Texas. And I feel fabulous. I feel about ten years younger. It's incredible, really, the moment you get up from the table after his chiropractic treatment. I believe anyone would feel so much better, it's just that I didn't expect it. I'm so relieved at how much better I feel. I feel more energized, the pain level has lessened, so it is so worth it to come here. And what brought me here was an auto accident. I jammed my spine up, and I just got tired of thinking it would feel better, when it didn't.
You too can start your journey toward reduced (and often totally eliminated) spine and neck pain, call TexStar Chiropractic Buda today!