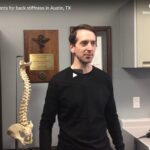 Eric Recovered from Back Stiffness
January 30, 2019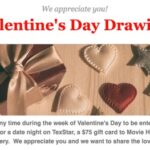 Patient Appreciation Week!
February 5, 2019
Hello, all. This blog post covers the story of Orthopedic Surgeon Dr. Scott Sigman, MD, and his stunning success in using MLS cold laser therapy, a non-surgical solution he uses to treat his patient's long list of injuries, aches, and pains. For years now, we've treated the great citizens of Austin with this same MLS cold laser technology and techniques that Dr. Sigman describes below. Like us, Dr. Sigman is on a focused professional quest to systematically reduce invasive surgical procedures in exchange for non-invasive and opioid-sparing surgeries. The success of chiropractic treatments (that include non-invasive MLS cold laser and its opioid avoidance trait) are systematically driving Americans away from surgery centers and into chiropractic treatment centers like ours here at South Austin's TexStar Chiropractic.
As you read Dr. Sigman's testimony, keep in mind that non-surgical pain relief is available immediately to all of you right here in Austin. It's just a phone call away!
Enjoy Dr. Sigman's story.
CHELMSFORD — Dr. Scott Sigman hopped up on the examination table in one of Ortho Lazer's treatment rooms on a recent November afternoon, and technician Keri Rouleau positioned the M6 Class IV cold therapy laser over his left heel.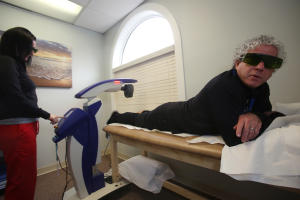 Everyone in the room put on their green protective eyewear. Rouleau fired up the machine, and it emitted a bright red light that was trained on a problematic spot on the back of Sigman's foot. The doctor became a patient of his own practice.
His Achilles tendinitis is a condition that is often vexing even for orthopedic surgeons like himself to treat.
Other ailments such as plantar fasciitis and tennis elbow, Sigman said, also don't have very good options for treatment — but Class IV cold laser therapy is showing great promise to treat these and many other acute and chronic conditions, including osteoarthritis, nerve, muscle and ligament injuries.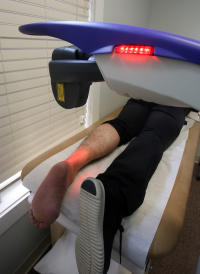 The treatment is popular around the world in both human medical and veterinary use, but has been slow to gain acceptance in the U.S., he said. It doesn't change the course of a disease, but it can successfully treat symptoms and provide relief, Sigman said.
"It can be to help prevent the need for surgical intervention," he said. "It can be used after surgery as well to reduce pain and inflammation, reducing the need for post-operative medication.
It also works exceptionally well for acute injuries."
The therapy works by stimulating cellular mitochondria in the affected area, Sigman said. Often called the powerhouse of the cell, mitochondria creates energy through production of adenosine triphosphate, or ATP, he said. Activating the mitochondria helps increase the rate of cell growth and repair, and down-regulates the nerve "so that it doesn't continue to send those signals to your brain that this thing hurts," Sigman said.
Dr. Scott Sigman at his new facility in Chelmsford, Ortho Lazer, which uses cold therapy lasers to treat orthopaedic pain. SUN/Julia Malakie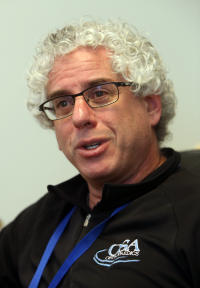 Sigman is well-known across the country for the successful opioid-sparing approach to surgery he and Dr. David Prybyla began at Lowell General Hospital five years ago, using a combination of non-addictive medications and long-acting anesthetics.
Since then, he said opioid-sparing surgery has become his passion and he's continued to look for alternatives to reduce the need for surgery and exposure to narcotics. He became aware of Class IV cold laser therapy through his travels, and after months of research, decided it was something worth pursuing.
Sigman first began offering the Food and Drug Administration-cleared therapy to patients in July at North Chelmsford-based Orthopaedic Surgical Associates of Lowell, where he is a partner. Because of the successful outcomes and demand, he decided to open Ortho Lazer as an independent company at 227 Chelmsford St. on Sept. 24.
He said he's in the process of also setting up an Ortho Lazer Foundation, which will take a percentage of the practice's revenues and contribute the funds to local organizations working to combat the opioid crisis and help those in recovery, such as Megan's House in Lowell, which recently honored Sigman for his work.
After only a couple months in operation, growing interest, spreading mainly through word-of-mouth, has already brought Ortho Lazer to 80 percent capacity, treating about 70 patients per day, Sigman said. There are five laser technicians, with three operating at all times. Sessions are about eight to 10 minutes each, and patients can't feel the laser, Sigman said.
Ortho Lazer is only open 8 a.m. to 3 p.m. Monday through Friday, but he said he hopes to expand to offer evening and Saturday hours within the next couple months.
It's not a walk-in clinic — prospective patients must be referred by medical professionals for specific diagnosed conditions, or request their medical records be sent to Ortho Lazer for review by a clinician, Sigman said.
He said there is a large demand for non-surgical treatment options. Laborers such as electricians, plumbers ad drywallers, for instance, suffer a lot of shoulder problems and injuries, and will forego surgery because it means being out of work for an extended period of time, Sigman said.
A full rotator cuff tear will require surgery, he said. But cold laser therapy can help to relieve the pain of many partial tears and shoulder bursitis, pushing off the need for surgery for a period of time, Sigman said.
Unlike repeat cortisone shots, for example, that can affect other areas of the body and diminish in effectiveness, laser therapy can be done as much as needed without restriction, he said.
While the treatment has shown to have as much as an 80 percent to 85 percent success rate in providing significant pain relief for as long as 10 months to a year in certain cases, it currently isn't covered by commercial health insurance or Medicare, Sigman said. He said he does not anticipate that will occur until more extensive randomized controlled trials are performed in the U.S.
In order to make the treatment more accessible to local patients, Sigman said he set the price at $60 per treatment, the lowest in the country. He also offers discounts for what he called bilaterals — full price for one knee, half price on the other if done at the same time, for instance — and $45 per session for those who come back for maintenance treatments after the initial course.
Flexible-spending and health-savings accounts can also be used to pay for the treatment, Sigman said.
Jim Ahearn, 71, of Haverhill, was at Ortho Lazer recently for the last of six prescribed treatments following right knee arthroscopic surgery performed by Sigman earlier this month. Sigman also performed the surgery on Ahearn's left knee, which suffered from similar arthritis and meniscus tear, in 2012.
Ahearn said he had first tried cortisone shots and an initial round of cold laser therapy on his right knee, but it soon became apparent that surgery was necessary. A man who doesn't like to take painkillers, he said the relief from the post-operative cold laser treatment was immediate.
He's not quite ready to get back to doing the level of yard work that he's accustomed to, but said he's well on his way.
"I'm probably 99 percent pain-free, from the combination of (Sigman's) surgery work and laser treatment," Ahearn said.
For more information, contact Texstar Chiropractic.