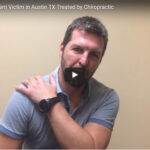 Car Accident Victim in Austin TX Treated by Chiropractic
November 6, 2017
Do Insurance Plans Cover Chiropractic Care? (Yes They Do)
November 21, 2017
If you are suffering from back, neck, shoulder pain, or constant migraines, spinal manipulation can provide relief. "Spinal manipulation" is designed to relieve pressure on joints and reduce inflammation. Your doctor at TexStar Chiropractic will use a combination manual mobilization of joints and muscles, advanced physical rehab, and other non-invasive treatment to help you reduce pain and function better.
Your Austin Texas chiropractic professionals here in Southwest Austin wish to share with you some statistics regarding the success of spinal manipulation in patients who seek non-drug treatments for pain relief.
In 2017, the American College of Physicians released updated low back pain guidelines that recommend first using non-drug treatments, such as spinal manipulation, for acute and chronic low back pain.
The Journal of the American Medical Association in 2017 supports the use of spinal manipulative therapy as a first line treatment for acute low back pain.
95% of past-year chiropractic users say spinal manipulation is effective, and 97% of past-year chiropractic users are likely to see a chiropractor if they have neck/back pain.
In a consumer survey, chiropractic outperformed all other back pain treatments, including prescription medication, deep-tissue massage, yoga, pilates, and over-the-counter medication therapies.
Chiropractors are the highest rated healthcare practitioner for low-back pain treatments above physical therapists (PTs), specialist physician/MD (i.e., neurosurgeons, neurologists, orthopedic surgeons), and primary care physician/MD (i.e., family or internal medicine).
With prescription pain drug abuse now classified as an epidemic in the United States and the number of spinal fusions soaring 500% over the last decade, the essential services provided by chiropractors represent a primary care approach for the prevention, diagnosis and conservative management of back pain and spinal disorders that can often enable patients to reduce or avoid the need for these riskier treatments.
In 2015, the Joint Commission, the organization that accredits more than 20,000 health care systems in the U.S. (including every major hospital), recognized the value of non-drug approaches by adding chiropractic to its pain management standard.
At TexStar Chiropractic we take great satisfaction in educating our Southwest Austin community with a host of spinal manipulative techniques. These techniques have proven over time to our patients to provide a higher quality of life.
Call or contact us today to discuss any of the findings discussed above or to schedule your initial consult with Dr. Michael P. Henry and the caring staff here at TexStar Chiropractic in Austin, Texas.