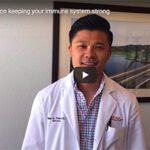 Tips to Keep Your Immune System Strong
May 12, 2020
Safe and Effective Treatment for Kids' Headaches and Back Pain
May 27, 2020
Hey there from your health care team here at Buda's very own TexStar Chiropractic. In the video below, Dr. Henry proudly introduces a new treatment option we have brought into all of our clinics. It's called "cryotherapy therapy" and what it does is rapidly drops the skin temperature in the area being treated to produce a neural response that turns off the pain signal to your brain. It also stimulates your body's natural anti-inflammatory response. This is a particularly effective treatment for various types of pain associated with tissue damage, muscle spasms, inflammation, and a host of other ailments anywhere in the body.
Watch the video below to see how Dr. Henry treats a patient's elbow and arm pain using Cryoscreen liquid C02 applicator.
Learn more by visiting our cryotherapy webpage.
It has been great seeing so many of you back in the office this last week and even better seeing the beginning of things returning to some semblance of normal out in the community. So that we can continue this progress we are continuing to maintain social distancing as much as possible as well as asking all our patients to please wear a mask when visiting our offices to help protect our more vulnerable populations.
If you are ready to get back to getting better give us a call, and let your doctor know if you want to try this great new treatment option!