Governor Abbott Reappoints Dr. Henry, DC, To Texas Board Of Chiropractic Examiners
May 11, 2020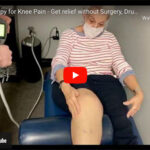 Freeze Your Pain in its Tracks with Spot Cryotherapy
May 20, 2020
Greetings Once Again Everyone
We celebrate the ability to author topics and tips designed to improve your overall health and quality of life. Today, we are proud to introduce to you (via video) another member of our TexStar chiropractic team, Dr. Bao Tran, DC. Dr. Tran offers some really good advice about how we all can boost our immune system via very simple immune system-enhancing behaviors:
Go outside (and get vitamin D)
Eat fruits, vegetables, and nuts
Eat healthy fats (olive oil, salmon, avocado, etc)
Exercise (hike, walk, bike, jog)
Get seven to eight hours of sleep
Hydrate
Manage stress
Thank you, Dr. Tran for taking time out of your day to selflessly educate us all. If your new to our blog, we encourage you to check out our other recent pain and health tutorials such as our TexStar Chiropractic at-home neck care tutorial, our at-home lower back care tutorial, and our work from home ergonomics tips.
If you suffer any acute or systemic spine or neck pain, know that the entire team here at Buda's TexStar Chiropractic is ready to help relieve your pain and move you toward the quality of life that you deserve. Call us!