Welcome to Dripping Springs Chiropractic Blog
January 21, 2022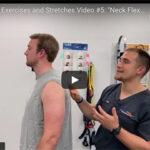 Neck Pain Relief Exercise #5: Neck Flexion and Extensions
February 9, 2022
Welcome back patients, friends, and neighbors of Austin's TexStar Chiropractic. For those new to our blog, we provide comprehensive chiropractic care at our three chiropractic clinics located in Austin, Buda, and Dripping Springs. Today, we continue with our next episode of our eight-part "Neck Rehabilitation Exercises and Stretches" video series. This episode covers "The Lateral Flexion with Resistance" stretch.
Before we get into it, we are thrilled to share a story of a viewer from last week's video that moved him to ask if a chiropractor can help relieve body pain after an auto accident. We responded by saying "absolutely yes" and that your treatment can likely be covered by insurance regardless of who was at fault. So, this blog series is making a difference and that is something we all celebrate here at TexStar.
Last week we introduced you to the second of our eight-part educational series that focus upon "Neck Rehabilitation Exercises and Stretches". For your quick reference, below are the links to our two previous episodes of the series:
Episode 1: The Towel Pull
Episode 2: The Resistance Press
Today, our Lead Therapy Tech , Kyle, demonstrates "The Lateral Flexion with Resistance" stretch. The goal of this exercise is to build strength at the sides and base of the neck to help reduce neck pain.
Important Disclaimer: If any of these exercises cause numbness, tingling, pain, or discomfort, stop immediately. Consult with a healthcare professional before resuming any of these stretch therapies.
Now, onto "The Lateral Flexion with Resistance" stretch!
Teaser alert: Next week's TexStar Chiropractic's blog post continues this exercise and stretch educational series with "The Shoulder Shrug and Squeeze". This exercise will help you build strength in the upper back and help reduce both lower neck and upper back pain!
Finally, and to remind you when pain becomes unbearable and it's time to seek treatment for neck pain, treatment for back pain, treatment for knee pain, or seek pain relief related to an auto accident, simply click here to schedule a free consultation with one of our doctors here at TexStar Chiropractic. We're proud of our track record to deliver true pain relief, very often during your very first chiropractic treatment!
Thanks for watching. We value your feedback, so contact us and let us know what you think!