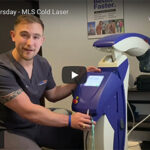 Therapy Thursday: MLS Cold Laser
October 14, 2021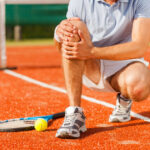 Sports Injuries
October 26, 2021
Welcome to the third edition of Buda and Kyle's TexStar Chiropractic's "Therapy Thursday" instructional video series. In case you missed the previous editions, here are your quick links to them:
Today, Kyle demonstrates our "Banded External Rotation" rehabilitation therapy. We spend most of our day with our shoulders rotated inward, which is a rounded-forward shoulder. Constantly spending time in this position will tighten up the shoulder joint, compromise our movement, cause joint stiffness/pain, and eventually lead to an injury.
Banded External Rotation helps to correct imbalance, externally rotating at the head of the humerus and opening up the shoulder. In the video below, we give you three different ways to perform Banded External Rotation at home.
Important Disclaimer: If any of these exercises cause numbness, tingling, pain, or discomfort, stop immediately. Consult with a healthcare professional before resuming any of these stretch therapies. Thanks for watching and come again next week!
We value your feedback, so contact us and let us know what you think!