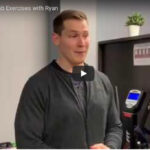 At-Home Exercises For Neck Stress and Pain
April 23, 2020


Governor Abbott Reappoints Dr. Henry, DC, To Texas Board Of Chiropractic Examiners
May 11, 2020
Hello Everyone
Dr. Henry here from TexStar Chiropractic serving Buda, Kyle, and the surrounding area. We're going to keep the at-home neck and spine health instructional videos going because they appear to be making a difference for you. Thank you, Ryan for our TexStar Chiropractic at-home neck care tutorial, and Mariah for our at-home lower back care tutorial. Today it's my turn and I'm going to offer some tips regarding proper ergonomics while working from home.
I cover several things in the video that you can do to take better care for your spine and neck: Periodically change positions (and how to do this), take breaks, how to sit straight correctly, elevate your monitor, keyboard positioning, and the benefits of using headsets. It's all easy stuff, so sit back, watch, enjoy, and hopefully learn a few things that will make a difference for you.
Don't forget to take these tips with you when you return to your office or normal workspace. As always, if you suffer acute and/or systemic pain that holds you back from the quality of life that you deserve, contact us anytime.