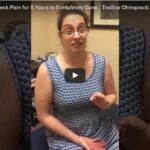 Five Years of Chronic Neck Pain — GONE in 120 Minutes
January 30, 2017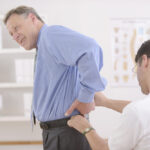 Chronic Back Pain – More Common Than You Might Think
February 14, 2017
The odds are that at some time in your life you have suffered some form of spinal-area muscle spasm. We hope that it was simply a one-time condition. For many people unfortunately muscle spasms are not one-time events but are recurring and often times recurring with increasing frequency. Below we will review what you should immediately do when back spasms strike. We also offer the strategic actions to take to end them altogether.
What should I immediately do when my back spasms?

The first thing to do when you sense the onset of a back spasm is to stop what you are doing! Gently massage the area that is hurting. Massage can be a great treatment for short term relief. Then to the extent possible rest your back until the spasm subsides. With that said, it is also important to get moving again as soon as practically possible because excessive sedation can cause the muscles to stiffen back up and begin to spasm when you try to move. It is a delicate balancing act to get your back muscles back in tune.
What if my back spasms remain persistent?

If you make prudent behavioral adjustments but you still cannot get your back spasms to stop, we strongly advise you to seek professional care. Your local chiropractor (TexStar Chiropractic for you folks in Austin) will do an exam to try and determine the underlying cause of your muscle spasms and pain. Chiropractors are patient focused and uniquely skilled in the art and science of diagnosing both the anatomical and physical lifestyle activities that may be causing your symptoms.
Chiropractors specialize in the mechanical functions of the body. Our combined education and experience make chiropractors THE subject matter experts regarding how muscles, ligaments and bones work together to help your body bend and move naturally. When joints lock up or fixate they do not bend and move as you bend and move. This causes inflammation in the ligaments, tendons, muscles and nerves surrounding that joint. We treat joint disorders using multiple therapy options that include (but are not limited to) cold laser therapy and spinal decompression therapy.
We can usually put your back spasm and back pain to rest in relative short order. We achieve this thorough a physical examination along with an in-depth study of your individual case history. Our patients are often surprised when they find out what is actually causing their symptoms whether it be structural issues or just harmful routines or activities that they were not aware were causing damage.
Be honest with yourself. If you suffer persistent back pain, then by definition you are missing something. It is highly likely that you will continue to suffer until treated and educated by chiropractic professional. Every day is precious. The sooner that professional enters your life, the better. The professional team at TexStar Chiropractic stands ready to help. Give us a call.