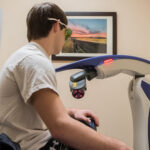 Cold Laser Therapy — A Completely Painless Spinal Treatment Option
January 23, 2017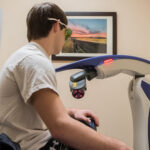 Back Spasms – Short and Long-Term Treatment Strategy
February 6, 2017
"Gone in 120 Minutes" is not a sequel to popular action movie. This is the real-life testimonial of a TexStar Chiropractic (Austin, Texas) patient who once believed that she was condemned to a life of pain. It is also the story of the unthinkable, that Americans often (and erroneously) view chiropractic care as a desperate measure of last resort only to subsequently discover a "miracle".
Five years ago, Sarah fell awkwardly while exercising on a trampoline and began a five-year period in her life living with a pain level described as "eight out of ten". Finally and at her wit's end, she came to us at TexStar to seek chiropractic care for her chronic neck pain. Like many, she had all but accepted as fact that she would never experience true pain-free living again. Sarah chose a combination of chiropractic manipulation and cold laser therapy. By the end of her second chiropractic treatment session she was pain free and hailing us as miracle workers. We humbly accept the compliments, however, we know that we are not miracle workers. We are simply highly trained and experienced professionals exercising PROVEN spinal treatment techniques often times likened to miracle works.
In this 40-second video, Sarah summarizes the "miracle" she recently celebrated when Dr. Henry and the TexStar Chiropractic team ended five painful years of agonizing neck pain and a brutal chapter of her life. However, this video is not all about Sarah. Behind the video is our celebration. We celebrate the ability to deliver chiropractic care to the fine people of Austin and revel in the professional reward of returning quality of life to those who enter our door.
It is perplexing why the great people of these United States, on average, wait longer to seek chiropractic solutions to pain than those people of other developed nations. Strongly consider the fact that pain and drug-free living is achievable and can be achieved more safely and more affordably than your current approach. Your "miracle" might just be a phone call away.