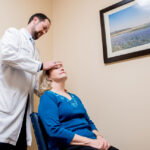 Mobile Phone Text Neck and How To Prevent It
May 8, 2017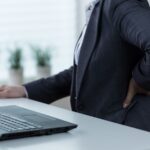 Lower Left Back Pain – Causes and Who Can Help You
May 31, 2017
In previous posts, we informed you of the close bond that we share with the Austin medical community as more and more medical doctors recommend nonpharmacological (drug free) chiropractic treatment for patients with back and spine pain. The reason medical doctors turn to the chiropractic community for patient treatment relates to their crystal clear understanding of the opioid epidemic and the opioid-related health risk that their patients face. They understand that with every opioid prescription there is an associated potential pathway to drug addiction.
The American College of Physicians (ACA), a highly regarded physicians group in the United States, issued guidelines that suggest the use of spinal manipulation and laser therapy (and other back and neck pain treatment services that we offer) as highly recommended alternatives to opioids. Studies show that continuous use of opioids in excess of 30 days greatly increases your risk of drug dependence. Back and neck problems often relate to systemic issues that require treatment in excess of 30 days to mitigate and/or eliminating pain. This is a real life health dilemma given the fact that physical dependence on opioids can develop in as little as two days of continuous use.
With the potential for dependence and the real harm imposed by long-term opioid use, utilizing non-drug approaches (like chiropractic care) makes perfect sense. Chiropractors have the training, expertise, and tools necessary to evaluate, diagnose, treat and monitor pain. Chiropractic treatment for back and neck pain can eliminate the need for prescription pain relievers. Dr. Henry and his staff at TexStar Chiorpractic offer opioid-free treatments for your pain.
If you suffer from back and/or neck pain, take the advice of the American College of Physicians and consider chiropractic solutions to your problem. Make an appointment with south Austin's TexStar Chiropractic located at 4601 Southwest Pkwy. Or call us at (512) 899-2228.
(Reference: American College of Physicians article: Noninvasive Treatments for Acute, Subacute, and Chronic Low Back Pain: A Clinical Practice Guideline From the American College of Physicians