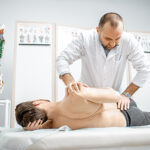 Research Conclude Spinal Manipulation is Effective Treatment for Tension Headaches
December 22, 2021
Neck Pain Rehab & Stretch Series Episode 2: The Resistance Press
January 17, 2022
Welcome to the first edition of TexStar Chiropractic's latest instructional video series "Neck Rehabilitation Exercises and Stretches". We looked back on 2021 and noted a steady increase of new patients suffering from neck pain. While the public most often associates Chiropractors with treating and relieving various forms of back pain, we increasingly treat patients complaining about neck pain.
If you are new here to TexStar Chiropractic's blog, you'll soon discover our blog to be a fantastic free resource on ways to promote good spine and neck care. Before we get started with our first episode of this new series, we think you'll benefit from a quick reference to our other three video spine and neck pain mitigation video series:
Statistically, every person reading here can directly relate to one (or more) of the following common causes of neck pain:
If you are ready to take a strategic and focused at-home approach to treating your neck pain, make no mistake, we are your biggest fan. Please know anytime along your journey, if you are suffering from neck pain and home treatment isn't getting you the results you want then click here to schedule a free chiropractic consultation with one of our doctors. We'll team up with you to move steadily forward on your pain mitigation goals.
Ok, so now onto the first of eight Neck Rehabilitation Exercises and Stretch Videos: The Towel Pull. Our lead Therapy Tech, Kyle, guides you through this entire video series.
Thanks for reading, watching, and following along! We value your feedback, so contact us and let us know what you think!
Important Disclaimer: If any of the exercises we are presenting cause numbness, tingling, pain, or discomfort, stop immediately. Consult with a healthcare professional before resuming any of these stretch therapies.