Low Back Home Exercise Video #8: "Knee Twist"
June 15, 2021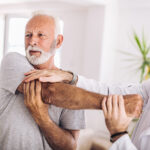 How Chiropractic Can Help Seniors Live More Comfortably and Safely
July 20, 2021
Today we send our "Final Low Back Home Exercise" greetings to you all. As they say, all good things must come to an end. This is the 9th (and final) segment of TexStar Chiropractic's Buda educational blog post series, demonstrating lower back exercises you can safely do at home. Although this is the last of our current educational video series, worry not! We have other things up our sleeve in the very near-future to help you eliminate or reduce the back and/or neck pain robbing you of the quality-of-life you deserve.
This exercise, "The Body Flexion" is known by other names within the larger fitness arena. This exercise is commonly practiced within the Yoga world as "Child's Pose". So, to some of you this will be a familiar exercise. The purpose of this exercise is to improve overall flexibility from the bottom of the spine up into the shoulders making you feel good! Watch this exercise being demonstrated below.
Also, for your quick reference, below is the link to our previous seven stretching video blog posts:
The Cat Cow
The Bird Dog
The Hyperextension
The Hip Bridge
Knee to Chest
Lying Hamstring
Wall Figure 4
Knee Twist

Remember if you are suffering from low back pain and home treatment isn't getting you the results you want then click here to schedule a free consultation with one of our doctors to see if we can help you reach your goals.
Now, on to the "Body Flexion"
Important Disclaimer: If any of these exercises cause numbness, tingling, pain, or discomfort, stop immediately. Consult with a healthcare professional before resuming any of these stretch therapies.
Thanks for watching and come again next week! We value your feedback, so contact us and let us know what you think!