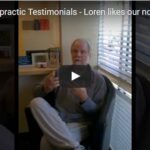 TexStar Chiropractic Testimonials – Loren Likes Our No Nonsense Approach
October 25, 2016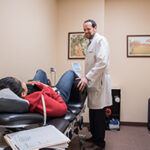 Nonsurgical Spinal Decompression can Give Long-Term Relief from Pain Caused by Disc Bulging, Herniation, and Degeneration – Austin, TX
November 8, 2016
Below is a testimonial from one of our patients who has seen great results in treating her pain.
"I'm a patient of Dr. Henry's and I have been for three years. When I first came to him, I was limping through the door. And, today I feel really good and am physically able to walk 3 to 5 miles on a good day. And, I am able to play pickle ball and dance, which I do a lot of. He is very thorough at what he does, he is very patient and answers all of your questions thoroughly. He has a thorough practice of all different types of therapies that he applies to make you feel better. I am very impressed with his staff and I highly recommend him to any of you out there."
For For more information on chiropractic care, contact TexStar Chiropractic in Austin, TX.