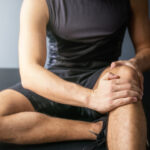 Tips for Sports Injury Recovery
September 27, 2022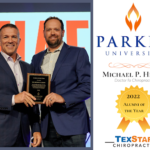 TexStar Chiropractic's CEO and Founder, Michael P. Henry, DC, Named 2022 Alumni of the Year from Parker University
October 11, 2022
Hello once again from your team of chiropractic professionals here at Texstar Chiropractic in SW Austin, Texstar Chiropractic in Bee Cave, Texstar Chiropractic in Buda, and Texstar Chiropractic in the Belterra Neighborhood of Dripping Springs. Today, we're going to cover a condition we treat daily here at TexStar: whiplash.
What is whiplash?
Whiplash is most often related to automobile collisions and sports injuries but can also occur from other traumatic incidents. Whiplash occurs when there is a rapid and abrupt movement of the head and neck backward and forward. The sudden extension of the neck can create a variety of injuries and symptoms. Both ligaments and muscles within the neck and shoulder areas are often traumatized causing severe pain and stiffness, which if left untreated, can have life-long impact.
TexStar's Dr. Roemer of the SW Austin clinic put together a very short (but highly informative) video about whiplash. We are confident you will find the video rewardingly informative.
Whiplash injuries often differ from one person to another, depending on the severity of the auto accident and the overall health of the individual injured. Whiplash causes soft tissue injuries that can result in significant ligament and neck muscle damage. It can also cause considerable damage to joints located between vertebrae (spine bones) and discs of the spine as well as nerve roots and cervical muscles.
As Dr. Roemer explains in the video, three treatments routinely provided at TexStar Chiropractic deliver both rapid pain relief and shorten the injury recovery period. Those three common treatments are Cold Laser Therapy, Cryotherapy, and Chiropractic Adjustments.
If you're suffering from a whiplash injury, your treatment plan will vary depending on the extent and severity of your injury. Dr. Roemer and his fellow TexStar Doctors of Chiropractic will employ different chiropractic treatments for your whiplash based on your unique conditions. The bottom line is this: if you've suffered whiplash or another injury from an auto accident, sport, or any other traumatic event, consider your drug-free and surgery-free pain mitigation option of chiropractic care. You'll be glad you did!