TexStar COVID-19 Update – April 13, 2020
April 13, 2020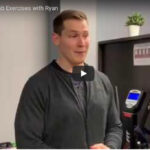 At-Home Exercises For Neck Stress and Pain
April 23, 2020
Greetings All….
Today's blog post is a follow-up to our latest blog post regarding home care. All of us here at Buda's TexStar Chiropractic miss you, and we want to make sure that during this time when gyms are closed and our normal routines are interrupted that you are taking the time to exercise and keep your core strong. Mariah, our rehab tech has put together a great video demonstrating some great home exercises that you can do every day to keep your core strong. Keeping your core strong helps to stabilize your spine which will help you prevent back pain but if you are already having pain that is not getting better with basic home care, call us. We can either give you some other home recommendations to try or get you scheduled for a visit in the office if needed.
These are exercises designed for the young and seniors alike, but if you experience pain while doing any of these exercises STOP.
Here is Mariah:
The entire team here at Buda's TexStar Chiropractic send our best wishes to you and remind you not to neglect your physical and mental health during these most challenging times. We're here for you!