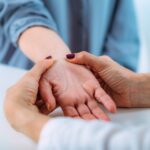 Double-Crush Syndrome vs. Carpal Tunnel Syndrome
November 20, 2023
Have you ever woken up with a stiff neck, struggling to turn your head? That discomfort is commonly known as a "crick" in the neck. What causes this? How can you prevent it? 
What is a Crick in the Neck?
A crick in the neck is essentially a muscle spasm or strain in the neck area. This often leads to pain, limited range of motion, and difficulty moving the head. Imagine your neck muscles as rubber bands; when strained or overused, they can tighten, resulting in that uncomfortable crick sensation.
What causes it?
Several factors contribute to strains into this pain in the neck. Sleeping in an awkward position, poor posture, or sudden movements can strain neck muscles. Prolonged use of electronic devices with the head tilted downward can also lead to this discomfort. Stress and tension play a role too, causing muscles to tighten and potentially result in a crick.
How can you prevent it?
Maintaining good posture is crucial in preventing neck cricks. Ensure your computer monitor is at eye level to avoid tilting your head downward. When sleeping, use a supportive pillow that keeps your neck aligned with your spine. Take breaks from prolonged screen time to stretch and relax your neck muscles. Regular exercise, focusing on neck stretches, can improve flexibility and reduce the risk of cricks.
How to fix it?
When faced with a crick in the neck, several remedies can provide relief. Applying ice or heat to the affected area can reduce inflammation and soothe the muscles. Gentle neck stretches and range-of-motion exercises can also help alleviate the discomfort. Over-the-counter pain relievers may offer temporary relief, but it's essential to consult with a healthcare professional before use.
Easy Range of Motion Exercises to try:
Neck Tilts
Start by sitting upright in your chair and gently lower your chin towards your chest, feeling the stretch at the back of your neck. Hold this position for 10 to 15 seconds before slowly bringing it back up to its original position. Repeat this stretch up to four times in total.
Head Tilts
Start by sitting up straight and slowly tilt your head towards one shoulder, hold for 10 to 15 seconds and then switch sides. Repeat this stretch 4-5 times in total.
Shoulder Rolls:
Start by sitting or standing with your back straight and your shoulders relaxed. Rotate both of your shoulders forward, taking each one at a time and hold for 10 to 15 seconds. Then, rotate both of your shoulders backwards and hold for 10 to 15 seconds. Repeat this stretch 4-5 times in total.
Chiropractic Care as a Solution
Chiropractic care is gaining popularity as an effective solution for neck cricks. Chiropractors specialize in the musculoskeletal system, using non-invasive techniques to address issues like muscle spasms in the neck. Through manual adjustments, chiropractors aim to realign the spine and alleviate tension in the muscles. This can provide swift relief from a crick in the neck, promoting natural healing and restoring proper function.
Transitioning between these approaches—ice or heat, stretches, and chiropractic care—can enhance the effectiveness of the overall treatment. It's essential to listen to your body and consult with a healthcare professional, such as a chiropractor, to determine the best course of action based on your specific situation.
As a recap, a crick in the neck results from muscle strain or spasm, often due to poor posture, sudden movements, or extended periods of screen time. Preventive measures include maintaining good posture, using supportive pillows, and incorporating regular neck stretches. When faced with a crick, applying ice or heat, gentle stretches, and over-the-counter pain relievers can offer relief. Chiropractic care, with its focus on natural adjustments and muscle tension release, is emerging as a valuable solution for addressing neck cricks. Combining these preventive measures and corrective actions can reduce the likelihood of experiencing a crick in the neck and find effective relief when it occurs. Remember, a healthy neck is a key component of overall well-being, and taking proactive steps can contribute to a pain-free and flexible neck for the long term.