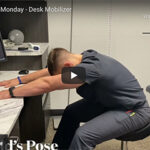 Movement Monday: The Desk Mobilizer
September 23, 2021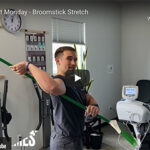 Movement Monday: Broomstick Stretch
October 4, 2021
Happy Monday, once again from your friends at Buda and Kyle's TexStar Chiropractic. This is the third of our ongoing "Movement Monday" video series designed to introduce you to simple movements that you can do anytime at home to increase your range of motion, reduce joint and extremity pain, and build strength and stabilization. If you haven't had the chance to watch the first two of the series, below are helpful quick links to them:
Most people do not prioritize mobilization as their first action of the morning, and because of this, they can suffer avoidable joint pain/stiffness for the whole morning, or even the whole day! In today's Movement Monday Morning Mobility video, Kyle demonstrates four movements that can help remove stiffness within your neck, back, and hips:
Cat/Cow: Great for spinal flexion and extension. Mobilizes the full spine from neck to low back!
Thoracic Spine Rotations: This was our first Movement Monday! This is great for mobilizing the upper back through rotation.
Frog Rocks: Have tight hips? This movement targets the hips and inner thigh to help loosen them up so that they are not pulling onto the lower back.
Pelvic Floors: This helps to mobilize the pelvis and reduce low back stiffness/pain.
Now follow and move along with Kyle!
This routine will help mobilize key areas of the body to help your joints prep for a more pain-free day.
Important Disclaimer: If this exercise causes numbness, tingling, pain, or discomfort, stop immediately. Consult with a health care professional before resuming this movement.
If you are suffering from low back pain and home treatment isn't getting you the results you want then click here to schedule a free chiropractic consultation with one of our doctors to see if we can help you reach your goals.