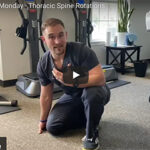 Introducing TexStar Chiropractic's "Movement Monday" Video Series
September 20, 2021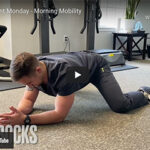 Movement Monday: Morning Mobility
September 27, 2021
Hello, everyone, once again from your friends at Buda and Kyle's TexStar Chiropractic. Last week we introduced you to the first of our new "Movement Monday" video series and we're glad to have you back! If you didn't catch it, last week's video demonstrated thoracic spine rotations which you can do at home to increase mobility in your lower back.
Today, one of our Lead Therapy Techs, Kyle, is going to demonstrate for you "The Desk Mobilizer". This is a quick routine you can throw into your workday to make sure you are getting a stretch in to help avoid some unnecessary neck and back pain. Kyle discussed five movements in this short video:
Thread The Needle: This stretch helps focus on our shoulders, as well as our lats, which can commonly get stiff from constantly being rounded when writing/typing.
Posted Lat Stretch: This stretch specifically targets the lats for a deeper stretch.
Desk Child's Pose: This helps to bring a stretch to the FULL spine, from neck to low back.
Seated Figure 4: We spend most of our day seated on our glutes. This stretch helps to bring some mobility into our glutes, which can help alleviate low back stiffness/discomfort.
Assisted Neck Stretch: Our neck can easily get stiff when focusing on a computer monitor all day. This helps to bring some mobility into the neck to alleviate stiffness/discomfort.
If you followed along with Kyle, don't you feel better already?
Important Disclaimer: If this exercise causes numbness, tingling, pain, or discomfort, stop immediately. Consult with a health care professional before resuming this movement.
If you are suffering from low back pain and home treatment isn't getting you the results you want then click here to schedule a free chiropractic consultation with one of our doctors to see if we can help you reach your goals.