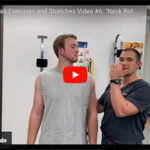 Neck Pain Relief Exercise #6: Neck Rotation
February 16, 2022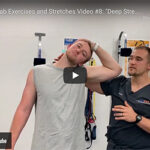 Neck Pain Relief Exercise Video #8: "Deep Stretching"
March 1, 2022
We are pleased to welcome you back to Austin's TexStar Chiropractic's blog and the seventh (of eight) videos depicting quality of life enhancing neck pain relief exercises you can do virtually anywhere and anytime.
Here's a very important fact about all the pain-reducing neck exercises we are presenting in this video series: These are all common exercises taught within formal degree programs like Doctor of Chiropractic studies, sports medicine degree programs, and many others. These exercises are taught across the country because they work. If you attend live sports events and enjoy watching your team warm up, you will witness the players warming up with these exact same exercises!
We offer our blog educational series as a free service because we feel strongly by doing so, we improve the quality of life of both our patients and our blog fans and that is exactly why we all joined this immensely rewarding profession. Today's exercise video, the "Tilted Forward Flexion", is designed to improve the flexibility in the sides of the neck to reduce overall pain.

Also, for your quick reference, below are the links to our previous six neck stretch video blog posts:
Episode 1: The Towel Pull
Episode 2: The Resistance Press
Episode 3: The Lateral Flexion with Resistance Stretch
Episode 4: The Shoulder Shrug and Squeeze
Episode 5: Neck Flexion and Extensions
Episode 6: Neck Rotation
Remember, if you are suffering from low back pain and home treatment isn't getting you the results you want, click here to schedule a free consultation with one of our doctors to see if we can help you reach your goals.
Now, on to "Tilted Forward Flexion"!
Important Disclaimer: If any of these exercises cause numbness, tingling, pain, or discomfort, stop immediately. Consult with a healthcare professional before resuming any of these stretch therapies.
Thanks for watching and come again next week! We value your feedback, so contact us and let us know what you think!