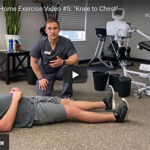 Low Back Home Exercise Video #5: "Knee to Chest"
April 21, 2021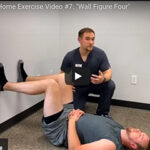 Low Back Home Exercise Video #7: "Wall Figure Four"
May 11, 2021
We're getting great feedback regarding our home exercise video series. Thank you so much! We are very pleased to know that so many of you are leaning that these simple home exercises produce the ability to help you move and feel better! We are pleased to welcome you back to Buda/Kyle's TexStar Chiropractic's blog and the sixth (of nine) videos depicting quality of life enhancing home exercises that you can do virtually anywhere and anytime. To remind, what we seek to do here is provide you with simple exercises that improve your quality of life by both increasing muscle and spine health while simultaneously striving to help reduce and/or eliminate pain. Today's exercise video, the "Lying Hamstring" is designed (as you may have guessed) to improve the flexibility of your hamstrings.
Also, for your quick reference, below is the link to our previous five stretching video blog posts:
Remember if you are suffering from low back pain and home treatment isn't getting you the results you want then click here to schedule a free consultation with one of our doctors to see if we can help you reach your goals.
Now, on to "The Lying Hamstring"!
Important Disclaimer: If any of these exercises cause numbness, tingling, pain, or discomfort, stop immediately. Consult with a health care professional before resuming any of these stretch therapies.
Thanks for watching and come again next week! We value your feedback, so contact us and let us know what you think!